Silesia is a historical region of Central Europe, mostly in Poland. Nevertheless, part of Silesia is located in the Czech Republic, and in this article, I'll tell you my top three hikes in the Czech part of Silesia. I live in the city called Opava which is the capital of Czech Silesia and this a view from my apartment!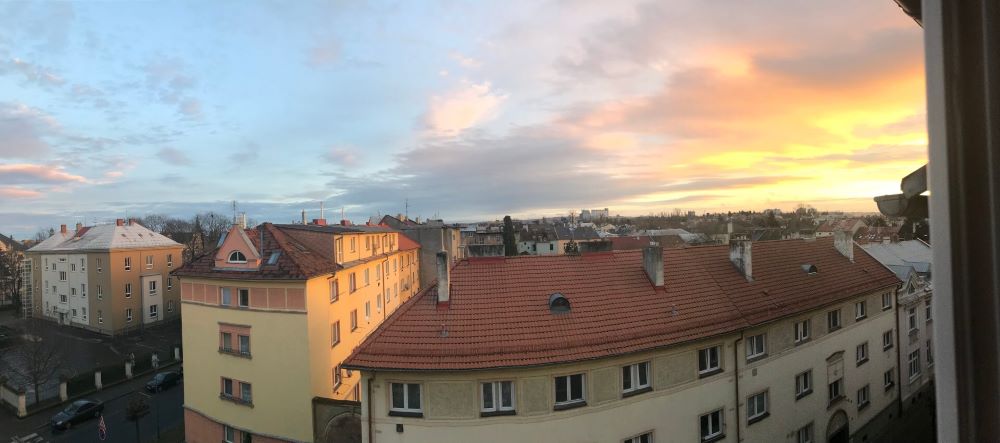 Well, it's much nicer in the real life. You should visit me! I make a great green tea 🍵. Anyway, let's go hiking!
The White Opava River Hike
Length: 9 km (one way). Time: 3 to 4 hours and then at least 1 hour to go back by bus. See the whole trek on a map. If you are brave enough, you can drink water from the local stream, as did I: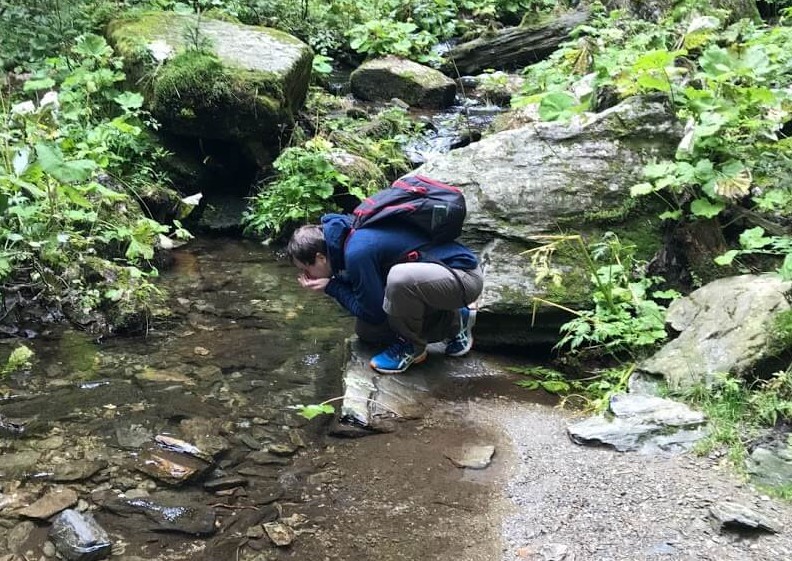 This is the hardest hike on the list, yet the most beautiful. It starts in Karlova Studánka, a spa village in the Jeseníky mountains. The village itself looks like a town from some fairy tale. It's worth a visit.
The trek starts next to the Karlova Studánka Waterfall.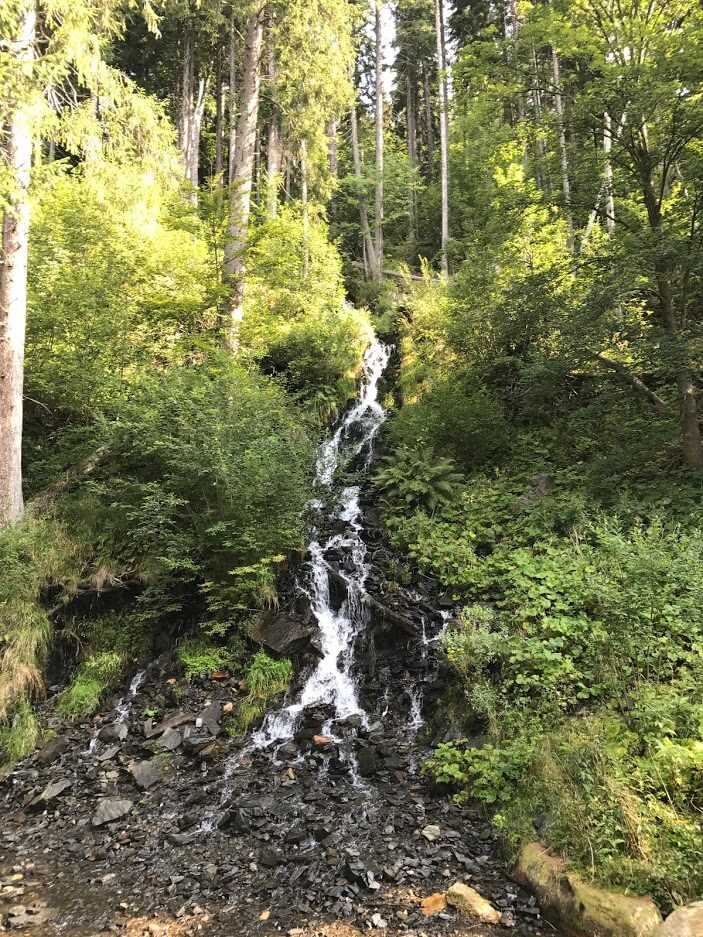 Then you follow the river "Bílá Opava" which translates to "White Opava". As you go alongside the stream the whole time you should see all the different waterfalls on the river. The name of the stream stems from the waterfalls: there are so many of them they make the water white! But be careful, the path is slippery and you need to overcome a few obstacles such as fallen trees. And do you like to climb ladders? There are a few of them.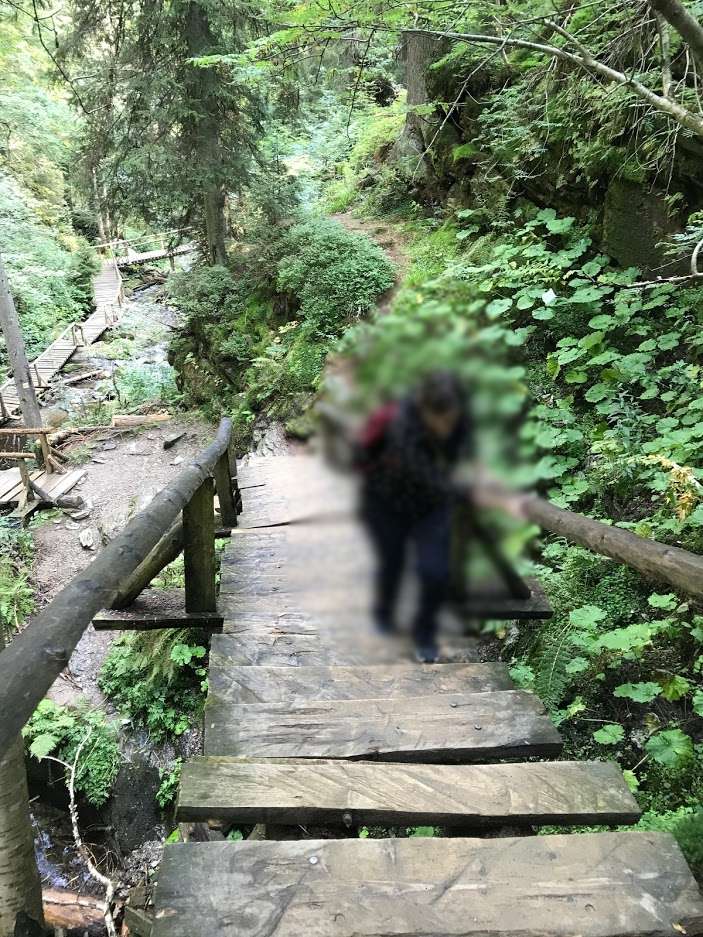 (Yeah, that is my wife, I had to blur her out 😃)
The trek is not difficult, though. The whole families usually go there. I was there as a child with my family. If you have at least some experience with hiking, you should be fine. Just be prepared for walking uphill the whole time.
The trek ends in the Barborka cottage, just a few meters below the summit of the Praděd mountain. You can buy a meal there. It's expected you go up to the peak. It should take you another hour of walking. Praděd is the tallest mountain in the Czech Silesia and the Moravia, it's 1,491 meters tall. There are a tower and a transmitter on top of the mountain. You can buy tickets and go up to enjoy the vista from the Praděd tower or visit a restaurant and get yourself a well-deserved meal.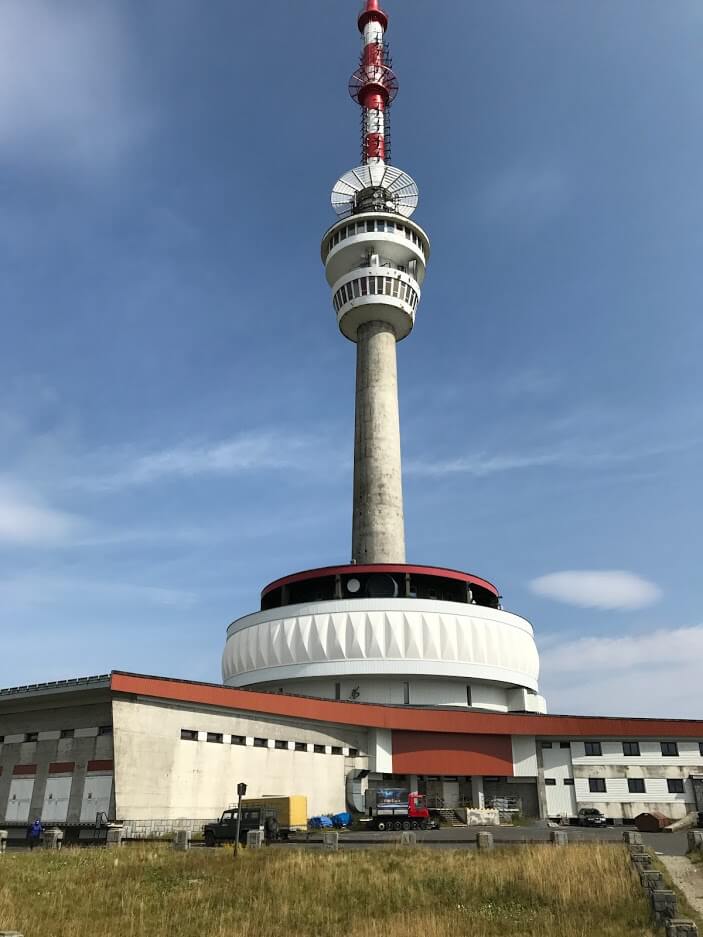 On the way back, you can go to "Ovčárna" and from there you can take a bus back to Karlova Studánka.
How to get to Karlova Studánka? Best way is by car. The second best way is to take a train from Opava to Vrbno pod Pradědem and then go by bus to Karlova Studánka. Use idos.cz to find your connections.
How difficult it is? You go uphill the whole time and you need to overcome some obstacles like fallen trees.
From Kružberk Reservoir to Hradec nad Moravicí
Length: 32 km (one way, but you can split it into two different hikes). Total time: about 10 hours. See the whole trek on a map. The trek starts next to the water reservoir Kružberk:
Then, you simply follow the river. The path goes through the gorgeous Moravice valley.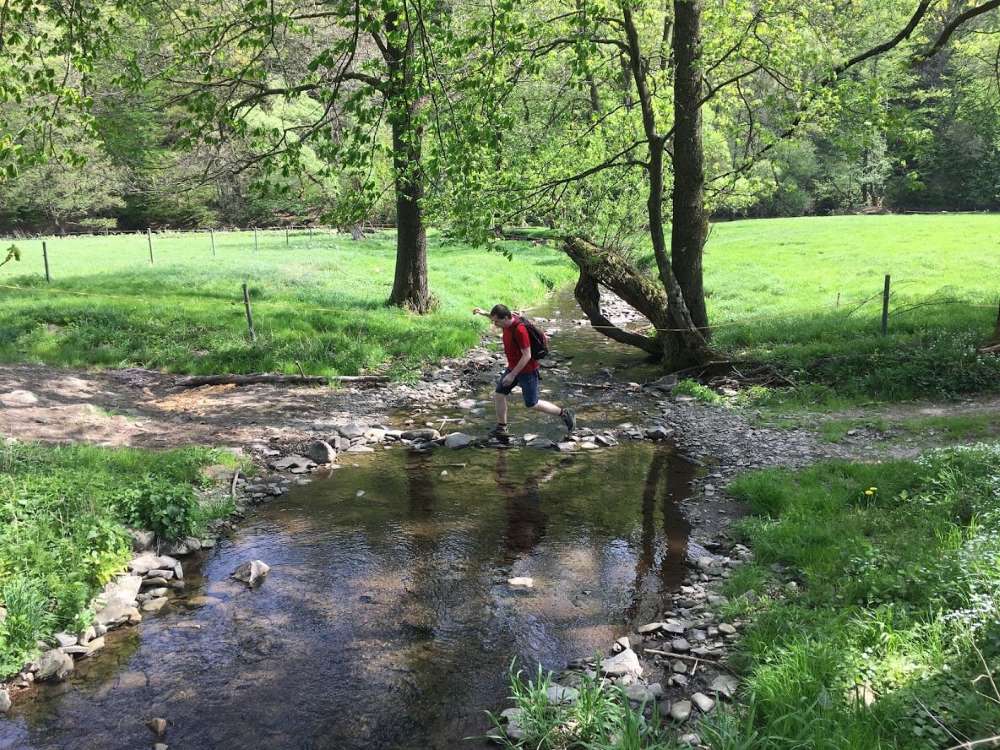 (That is me jumping on the rocks! But don't worry, there was a bridge.)
You'll meet training crags, former spa-village Jánské Koupele, the ruins of Vikštejn Castle, Weisshuhn Channel and the beautiful red castle of Hradec nad Moravicí.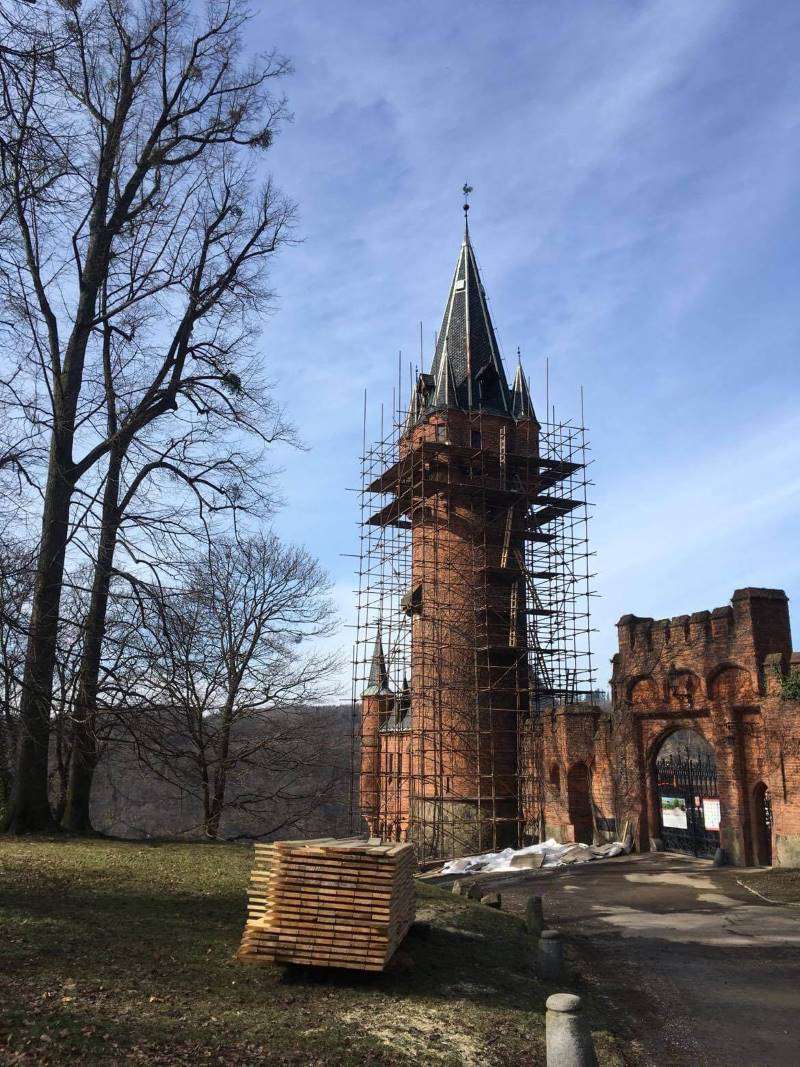 (Don't worry, it has been repaired. It's good as new nowadays!)
At the end of the hike take a train from Hradec nad Moravicí to Opava. You can also split the trek into two treks: from Kružberk to Podhradí and from Podhradí to Hradec nad Moravicí or even to Opava. Podhradí is a nice town next to the Moravice River.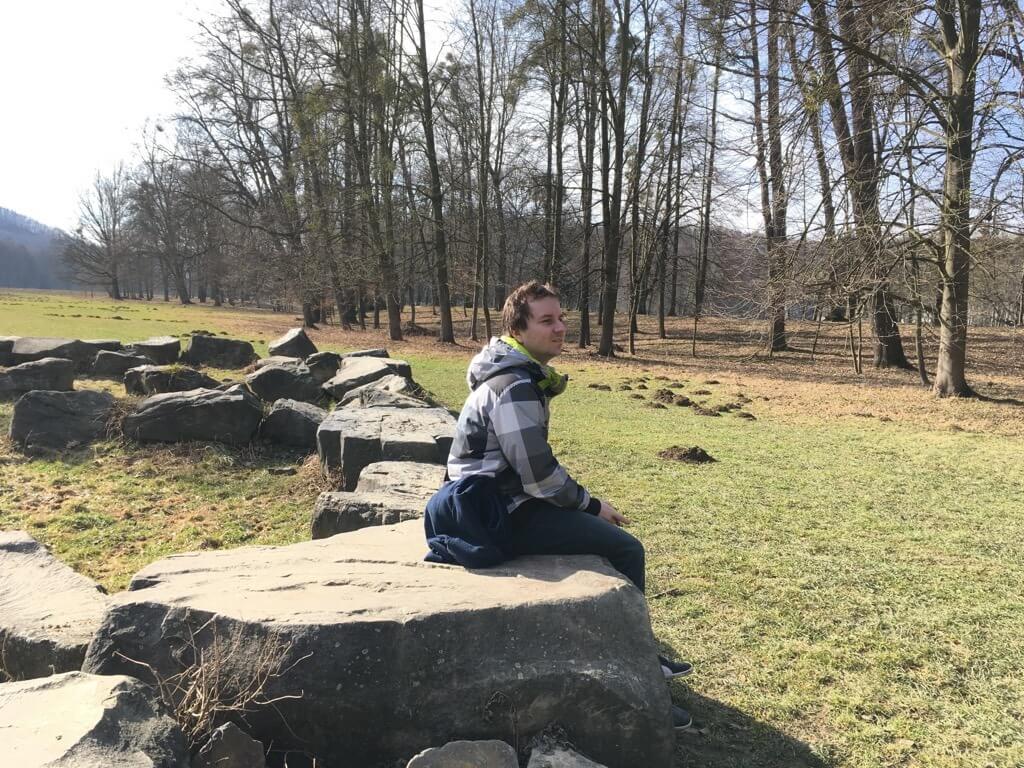 (That is me tired after the hike near the castle)
How to get to Kružberk? Take a bus from Opava Východní nádraží to Kružberk (or to Podhradí). You can search for connections on idos.cz.
How difficult it is? It's just long if you go full trek. Other than that, the path is more or less clear. There are a few rocks you need to climb but nothing serious, like one or two meters. My wife made it and she hates difficult hikes. Hence, don't worry. But take a snack with you as there are no restaurants (or they can be closed).
From Ostravice to Lysá Hora Mountain
It's time to see the Beskydy mountains! Length: 7,6 km (one way, you need to go back). Total time: about 4 hours (one way). See the whole trek on a map.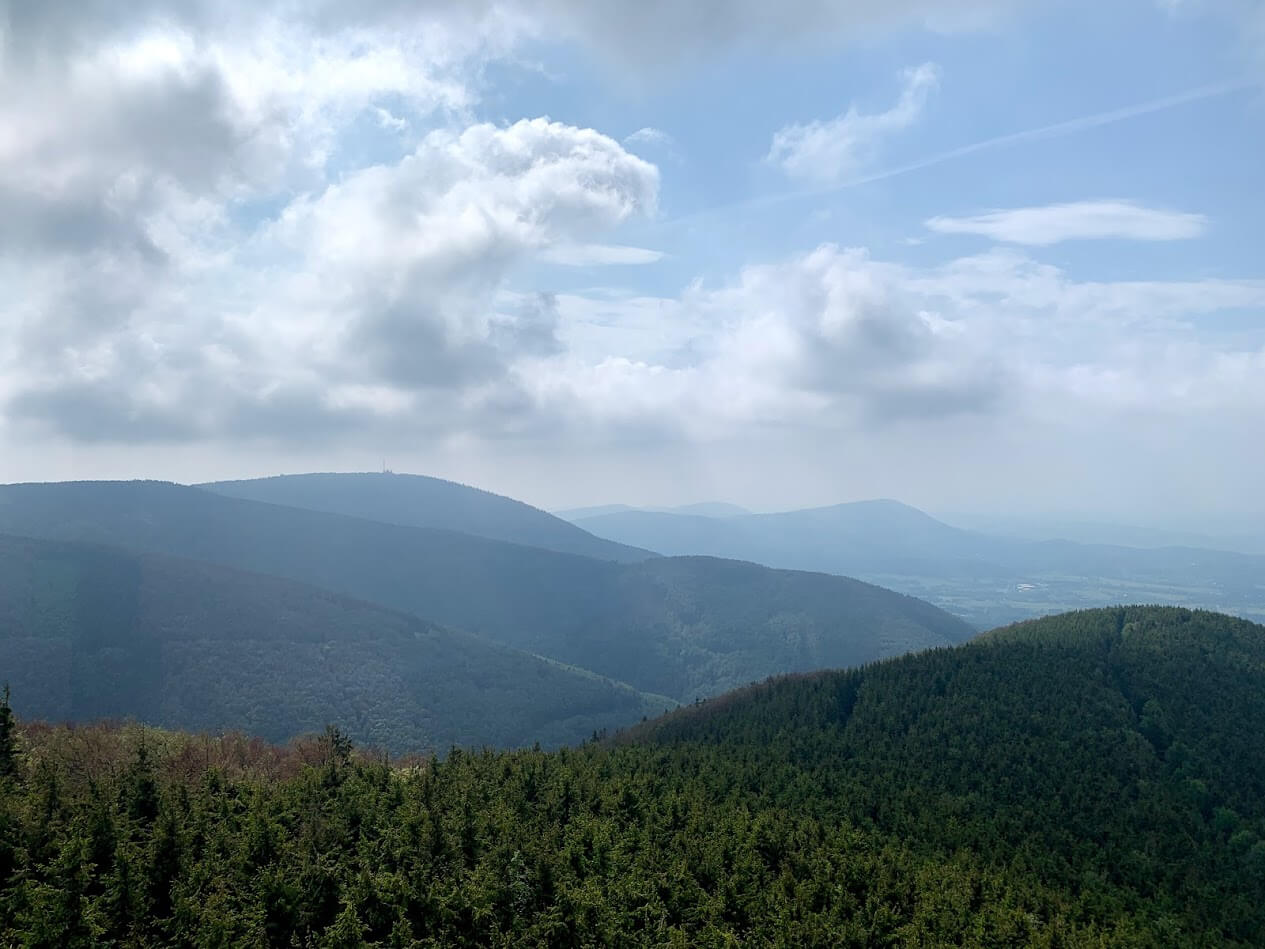 (Beskydy mountains)
This is the track my wife promised me never to go again. Because you just go up. Up the hill. All the time. But you can do it! I have faith in you. Lysá Hora is the tallest mountain in the Beskydy mountains, it's 1,323 meters tall. The name translates to "the Bald Mountain". Visit it and you'll see why.
Take a train to Ostravice and get out at the final stop. You find yourself in the heart of Beskydy mountains. Then, follow the red markings and just go up. Be aware of people running there. It may sound crazy but many people run to the top of the mountain and back as a form of exercise. There is even a race: how many times can you run up and down in 24 hours. If they can do it five times per day, you can do it at least once!
At the summit, you can enjoy a vista to the Beskydy mountains. And you can also enjoy a glass of Radegast, a Czech beer as there is a restaurant. Ask for Radegast 12!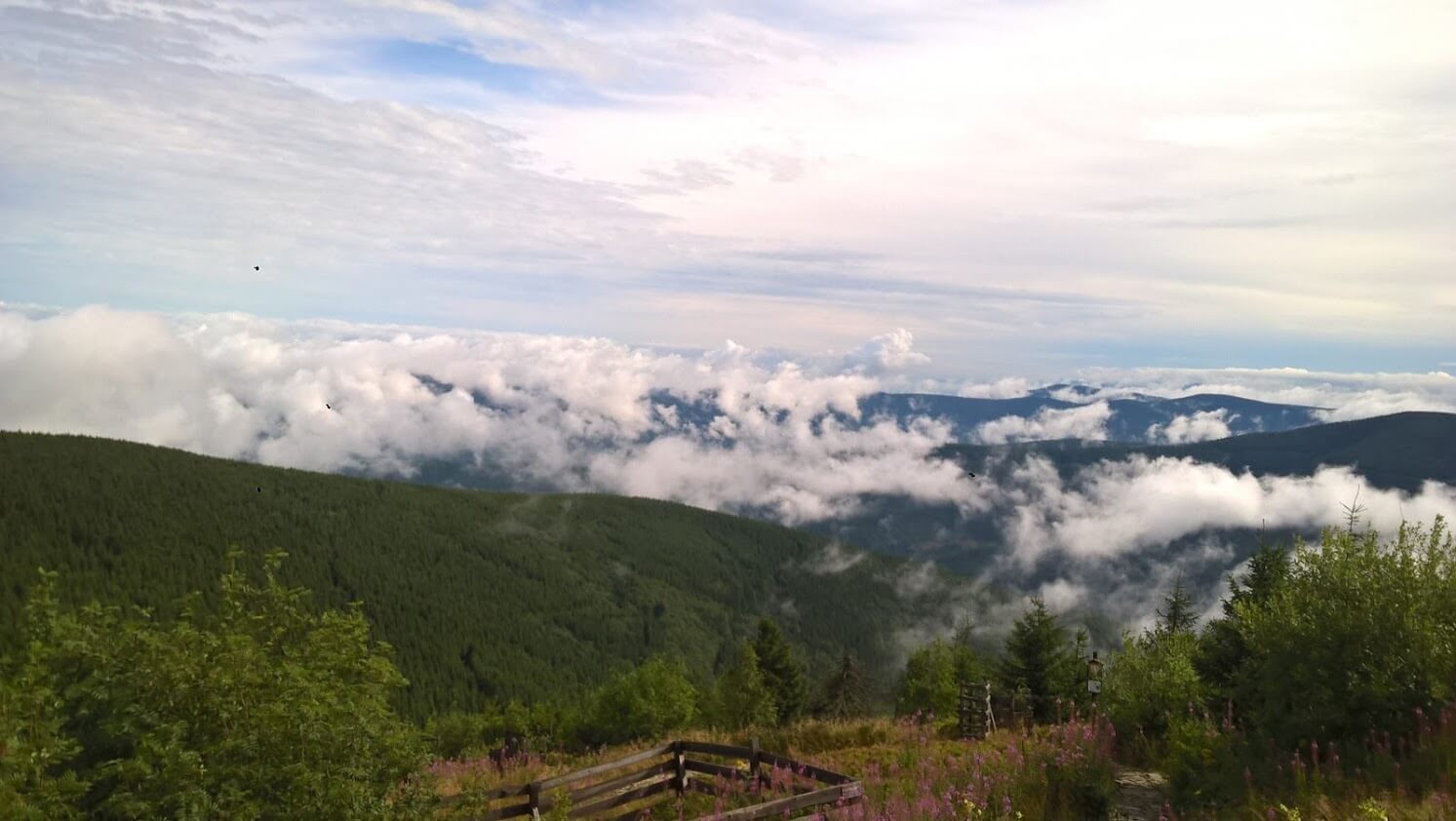 (A vista from the Lysá Hora)
How to get to Ostravice? Everyone goes either by car or by train. The train is more old-school. And the views from the trains are really nice. Do go by train if you have a chance.
How difficult it is? The path is not exactly comfortable. Sometimes, you walk on rocks. But no ladders, no jumping over streams, just going uphill the whole time but there is a 🍺 on the summit!
Further reading